Berkey® Inline Shower Filter With Berkey® Easy-Replace Cartridge – Chrome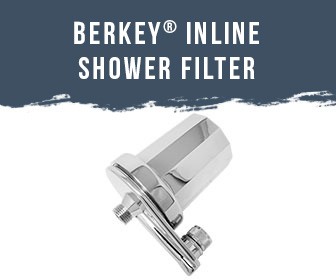 Promote healthy skin and hair. Feel refreshed. Reduce up to 98% of harsh chlorine, which can damage delicate skin and hair. Berkey® Easy-Replace Shower Filter Cartridges inhibit bacterial growth, and reduce heavy metals, algae, scale, and sediment in your water, improving water and vapor quality.
Keep the shower head you enjoy. Replace cartridge annually with less hassle. The Berkey® Inline Shower Filter fits standard ½" plumbing fixtures. Connect it between the shower arm and most shower heads (not included). Berkey® Easy-Replace Shower Filter Cartridges can be swapped out by hand in mere moments, and last up to 30,000 gallons or approximately 1 year with typical use.
Specifications:
SKU: W01BERKEY
Chrome finish
BPA free
Universal ½" fittings
Rated service flow:
2.5 gallons (9.5 liters) per minute
Lifespan:
up to 30,000 gallons (113,400 liters) / 1 year
Overall dimensions:
H: 5.1″ (128.25mm) x W: 3.5″ (86.75mm) x D: 5.1″ (129mm)
Housing cover:
H: 3.9″ (98mm) x diameter: 3.6″ (89.50mm)
Operating pressure:
20 – 100 psi (1.4 – 6.9 bar)
Operating temperature range:
40° – 120° F (4° – 48.9° C)
• Optimal pH range: 6.5 – 8.5
Precautions:
Lifespan of shower filter cartridge is dependent
on the quality of influent water
Water filtered by shower filter cartridge is not
advised for drinking water purposes
Installation of shower filter must comply with
state and local plumbing codes
A shut-off valve is not advised to be used with the
shower filter
Do not use when line pressure exceeds 100 psi (6.9 bar)
Do not exceed 120° F (48.9° C)
Do not install in direct sunlight
Protect from freezing
 Included in the box:
●      Filter cartridge
●      Cartridge housing
●      Plumbing plate
●      Rubber washer
●      Plumber's tape
●      Instructions
IMPORTANT! Flush Cartridge Before First Use
To prevent stains, flush the cartridge to clear excess carbon. After installing, point shower head
toward non-porous shower wall. Turn on water. Run until water runs clear (about 3-5 minutes).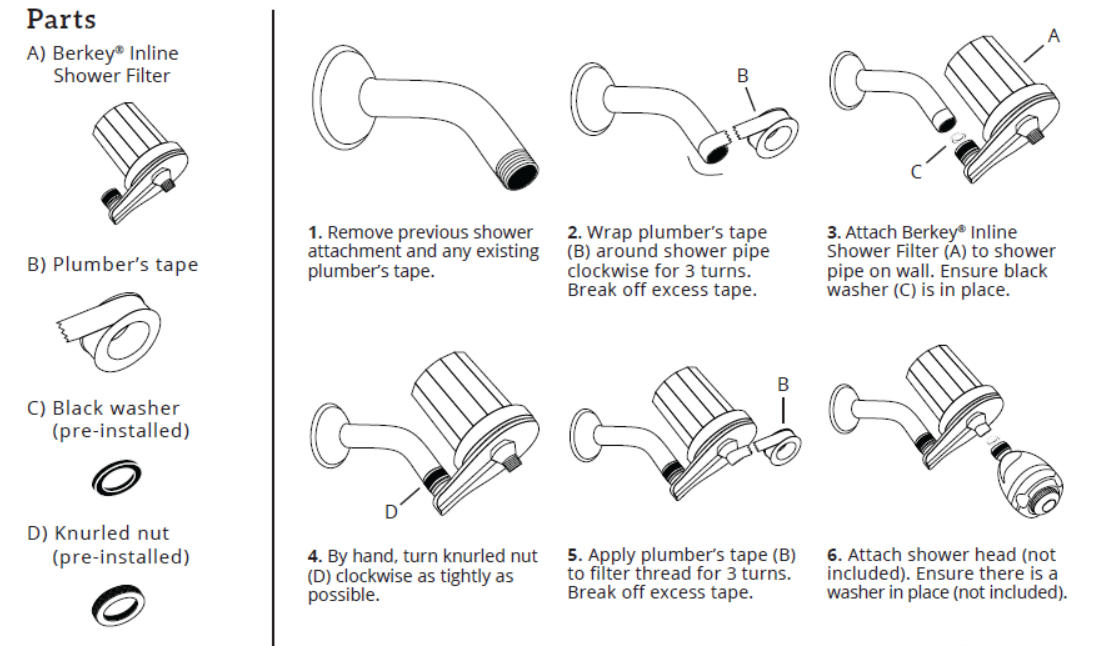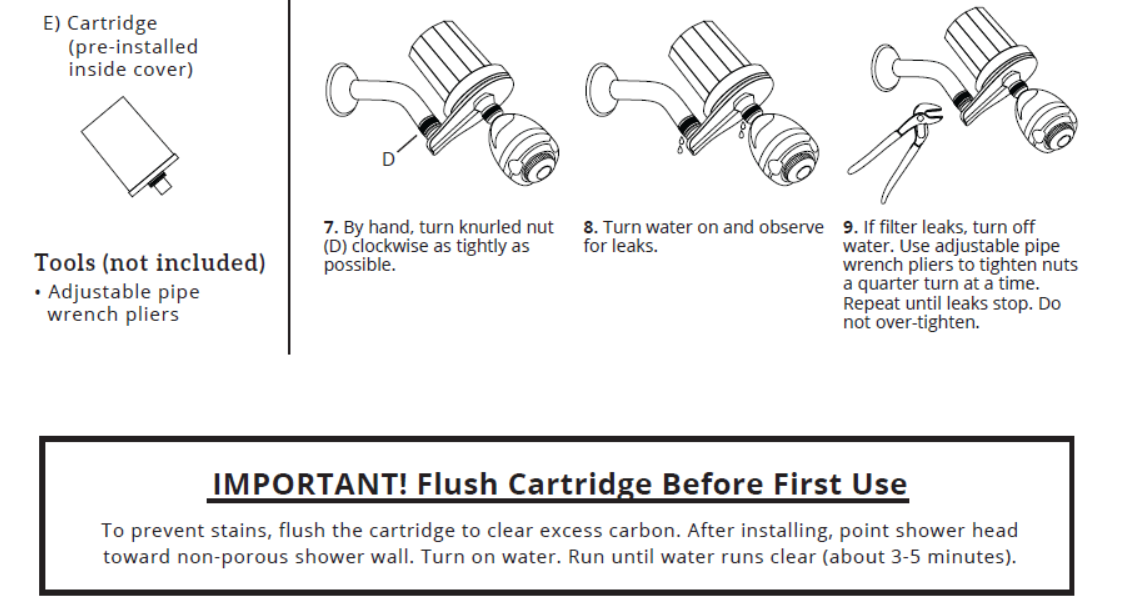 Berkey® Inline Shower Filter Canada