Berkey General Warranty Information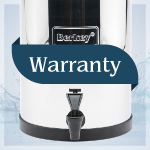 Black Berkey® purification elements and the Berkey Earth™ have a 2-year prorated warranty calculated in 6 months intervals. Our guarantee is pro-rated similar to the guarantee on tire tread. In other words, if you have used the filters for 6 months, 75% of the guarantee still applies and so you can get a replacement set for 25% of the normal cost.
The stainless systems themselves have a 12-month warranty.
The Berkey PF-2™ Fluoride and Arsenic Reduction Filters and all Berkey® accessories are covered under a 6-month warranty. Warranty period begins from the date of purchase of the product by the original purchaser.
BerkeyWater.ca (Berkey Canada) warrants this product to be free from defects in materials and workmanship for a period of 6 months from the date of purchase unless specified. Black Berkey purification elements have a two-year prorated warranty calculated in six-month intervals. Berkey Canada will replace or repair any product that it deems is not properly functioning during the stated warranty period. Relief under this warranty is limited to the replacement or repair of defective materials or workmanship only. Berkey Canada shall not be held liable for incidental or consequential damage to personal property from, but not limited to, a defective unit, improper use, abuse, accident, or neglect, etc. No warranty will apply to units which have been used for purposes not intended, which have been altered so as, in the manufacturer's judgment, to affect adversely its performance. This warranty is for the original retail purchaser only, and cannot be transferred.
Berkey Water Canada fully warranties the Berkey line of products. You may contact BerkeyWater.ca at any time to report an issue with your product. Berkey Canada is a reliable, upstanding, and quality company that will promptly address your needs. If for any reason you need additional assistance or have questions about the process, please contact info@berkeywater.ca